22 Famous Indian Authors And Their Notable Works
I realized India has a rich literary tradition and is home to some of the best and most imaginative authors out there. More people should read these books.
The sun goes down in a different way in India. And you can feel the same warm, exotic glow by sitting back and opening a book through which monsoons and smells of spices will flow.
Of course, I haven't read all the authors from this list (I intend to). But this is to serve as a reference for anyone interested in Indian literature who wants to go deeper and to learn about its most distinguished literati, both classic and contemporary.
1. Rabindranath Tagore
This was the first Indian author I've ever read. I remember sitting on a bus going to my office in Chandigarh and reading Gitanjali and Stray Birds in an old paperback version.
These poems changed my life and opened me up to something I've never experienced before.
Tagore was born in 1861 and during his life, he wrote hundreds of poems, books, and articles. His father knew Persian and could recite the poetry of Hafiz by heart. You can see that many of these Sufi mysteries are also detectable in the great author's work.
It is always related to The Power of Love and the closeness to God. Later in life, Tagore actually visited the tombs of Saadi and Hafiz in Shiraz and admired these poets greatly.
He was also deeply influenced by Baul mysticism, Sahaja Buddhism, Vedanta Philosophy, and the Upanishads.
He was knighted by the British Empire in 1915, but within a couple of years, he resigned the title as a protest against British policies in India (especially the massacre in Amritsar in 1919, which grounds I walked during my stay in Punjab). Tagore was the first non-European to win the Nobel Prize in Literature (1913).
Notable works:
Gitanjali
Heart of God
Stray Birds
Quote from the author:
"The small wisdom is like water in a glass:

clear, transparent, pure.

The great wisdom is like the water in the sea:

dark, mysterious, impenetrable."
2. Jiddu Krishnamurti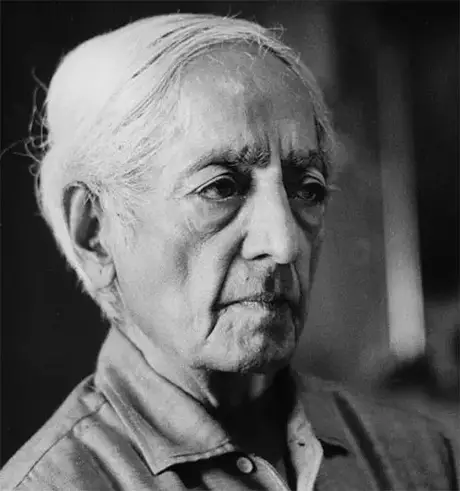 Krishnamurti was a great Indian writer and philosopher who later in life moved to the USA. You can still find many recordings of his talks and lectures on YouTube (highly recommended).
His interests were wide-ranging and included psychological revolution, the nature of the mind, meditation, societal change, and human relationships. I've learned a lot about meditation and the nature of consciousness from him. This includes the principle of non-grasping and non-judgment which serve me well to this day.
He was one of the first people to bring Eastern thought to the West. His thesis was that a revolution in society can only be brought about at the level of an individual. By changing ourselves for the better we can change society as a whole.
He pledged no allegiance to a nationality, a caste, or religion and spent the later years of his life traveling around the world and giving lectures to large and small groups.
Notable works:
Freedom From The Known
Awakening of Intelligence
Quote from the author:
"You must understand the whole of life, not just one little part of it. That is why you must read, that is why you must look at the skies, that is why you must sing, and dance, and write poems, and suffer, and understand, for all that is life."
3. Chetan Bhagat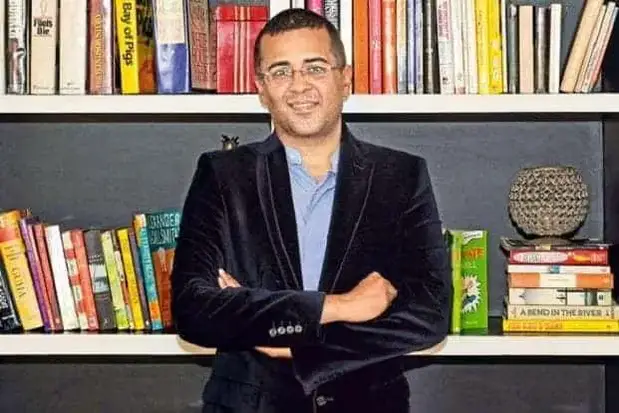 Chetan Bhagat is a modern author, columnist, screenwriter, and television personality, especially known for his books geared towards young readers from the Indian middle class.
He's one of the most popular writers in the country and his books sold over 7 million copies all over the world (he writes primarily in English). The New York Times called him "the biggest selling English language novelist in India's history".
Interestingly, instead of literature, he studied mechanical engineering and business management. At some point, he even applied to work in investment banking for Goldman Sachs. He wrote his first books while still working for the company but later quit his full-time job and focused on writing.
Many of his books served as an inspiration for Bollywood films and Time magazine named him one of the 100 most influential people in the world in 2010. However, in 2017 he has been accused of plagiarism (regarding two of his books) and is now involved in a legal trial.
Notable works:
2 States: The Story of My Marriage
Half Girlfriend
Quote from the author:
"Pretty girls behave best when you ignore them. Of course, they have to know you are ignoring them, for otherwise, they may not even know you exist."
4. Aravind Adiga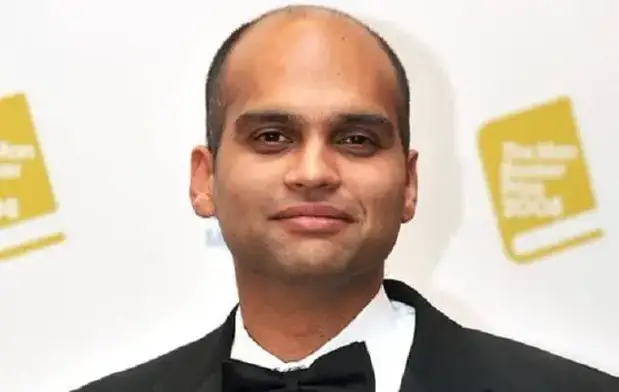 Adiga, born in 1974 in Chennai (Madras) is a modern Indian writer whose book "The White Tiger" won the 2008 Man Booker Prize. After growing up in Mangalore, he emigrated to Sydney, Australia with his family. Later on, he studied English literature at Columbia University in New York under the famous English historian, Simon Schama.
After his studies, he began his career as a journalist, traveling the world and writing for publications such as Financial Times and TIME. He finally went freelance and then wrote his first big book The White Tiger, which portrays Balram, a lead character coming from crushing rural poverty but witnessing the rise of India as a modern global economy. The book sold over 200,000 copies of the hardcover edition.
Now the author is back in India, living in Mumbai, where he writes and releases a new book every other year.
Notable works:
Last Man in Tower
The White Tige
Quote from the author:
"Go to Old Delhi, and look at the way they keep chickens there in the market. Hundreds of pale hens and brightly colored roosters, stuffed tightly into wire-mesh cages. They see the organs of their brothers lying around them. They know they are next, yet they cannot rebel. They do not try to get out of the coop. The very same thing is done with humans in this country."
5. Shashi Tharoor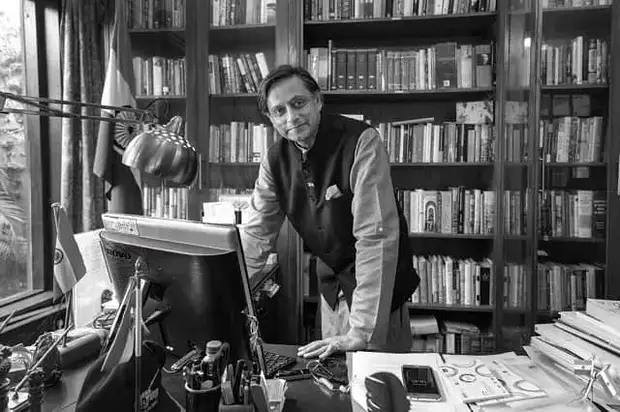 Tharoor is not only famous for his writings. He's one of the most influential Indians by any measure because of his involvement in politics and media. He's been writing since 1981 and authored 18 best selling works of fiction and non-fiction.
All of them are centered around the history, culture, film, and politics of his native country. Moreover, he wrote hundreds of columns for prestigious publications such as the New York Times, the Washington Post, and The Times of India.
He's a controversial figure in India known for his polarizing stances on many social and political issues. It's almost too much to digest (he even got charged with abetment to suicide of his wife in 2018).
Notable works:
An Era of Darkness: The British Empire in India
The Great Indian Nove
Quote from the author:
"India is not, as people keep calling it, an underdeveloped country, but rather, in the context of its history and cultural heritage, a highly developed one in an advanced state of decay."
6. Amrita Pritam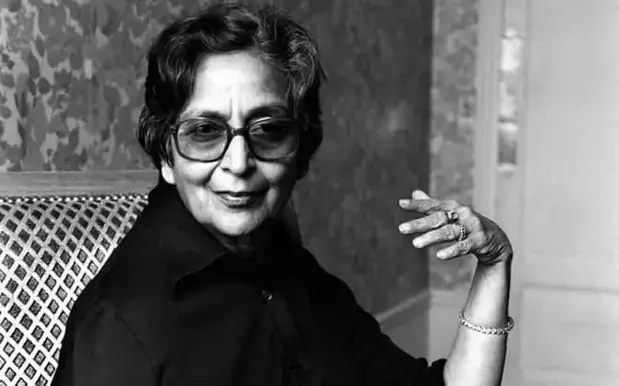 Pritam, born in 1919 was a novelist, essayist, and poet who, unlike many of the authors on this list wrote in Punjabi and Hindi.
She is known as the most prominent Punjabi poet who is loved both by Indians and Pakistanis. She lived a long life during which she produced over 100 books of poetry, fiction, biographies, as well as a collection of beautiful Punjabi folk songs. Her works have been translated into many Indian and foreign languages.
Her book Pinjar (The Skeleton) was groundbreaking and ultimately got adapted into an award-winning movie in 2003. She has been often compared to Mohan Singh and Shiv Kumar Batlavi and was the most prominent voice for the liberation of women in Punjabi literature.
Notable works:
Raseedi Ticket
Pinjar
Quote from the author:
"Warish Shah I call out to you, Rise from your grave, speak out and turn, Another page of the Book of Love"
7. Kamala Markandaya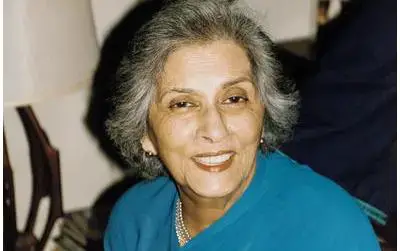 Another widely known female author from India, Kamala Markandaya, was born in Mysore in 1924. She was an acclaimed novelist and journalist known for writing about the conflict between different strata of the Indian society (rural vs. urban), as well as the adoption of Western values in her country.
Her book "Nectar in a Sieve" is a classic of Indian literature and has been in print continuously since 1955. After the Declaration of Independence, she moved to Britain but she always remained loyal to her native country and labeled herself an expatriate.
Notable works:
Nectar in a Sieve
A Handful of Rice
Quote from the author:
"For where shall a man turn who has no money? Where can he go? Wide, wide world, but as narrow as the coins in your hand. Like a tethered goat, so far and no farther. Only money can make the rope stretch, only money."
8. Khushwant Singh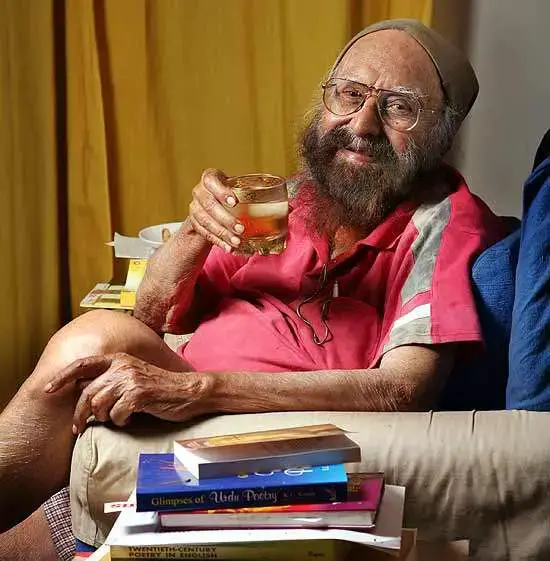 This list wouldn't be complete without mentioning Khushwant Singh, a Punjabi author, lawyer, diplomat, journalist, and politician.
He lived through the partition of India in 1947 and this inspired him to write "Train to Pakistan", which became his most famous novel (also made into a film in 1998).
He fought fiercely for the independence of India from the British Empire and in the '50s worked for the All India radio and UNESCO.
Unlike many Indian authors, he abhorred spirituality and treated life with wit, humor, sarcasm and unending love for poetry.
Notable works:
Train to Pakistan
Delhi: A Novel
Quote from the author:
"Not forever does the bulbul sing

In balmy shades of bowers,

Not forever lasts the spring

Nor ever blossom the flowers.

Not forever reigneth joy,

Sets the sun on days of bliss,

Friendships not forever last,

They know not life, who know not this."
9. R.K. Narayan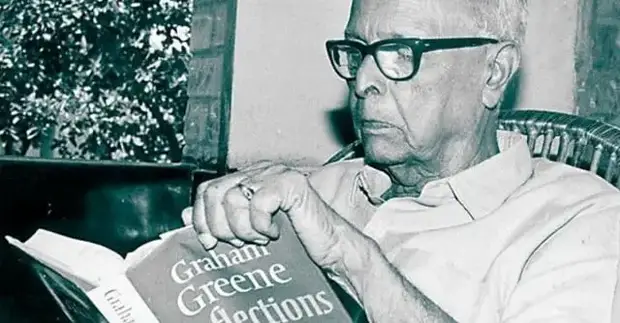 Rasipuram Krishnaswami Iyer Narayanaswami is mostly known for his fiction works related to the South Indian town of Malgudi. He was a leading English language author in India along Mulk Raj Anand and Raja Rao.
It might come as a surprise, but he was a close friend of Graham Greene, who actually helped him to get publishers for his first books. The fictional town Malgudi was first introduced in his book "Swami and Friends". The made-up town had a pristine historical record dating back to the times of Ramayana and Buddha.
He loved to show the humor and of everyday life and has been often compared to William Faulkner. He wrote for over sixty years and lived to be 94.
Notable works:
The Guide: A Novel
Malgudi Days
Quote from the author:
"Friendship was another illusion like love, though it did not reach the same mad heights. People pretended that they were friends, when the fact was they were brought together by force of circumstances."
10. Salman Rushdie
This author should not require an introduction. Rushdie first came on the map with his novel "Midnight's Children" (1981) for which he won the Booker Prize.
His works are a great combination of magical realism and historical fiction and are often set on the Indian subcontinent.
His novel "The Satanic Verses", put him in mortal danger from assassins who haunted him for many years on orders from Ayatollah Khomeini, who issued a fatwa, condemning the author to death, for his "blasphemous" novel which ostensibly offended the Prophet.
He wrote many novels afterward and has been ranked 13th on the list of the best British writers since 1945.
Notable works:
The Satanic Verses
Midnight's Children
Quote from the author:
"I am the sum total of everything that went before me, of all I have been seen done, of everything done-to-me. I am everyone everything whose being-in-the-world affected was affected by mine. I am anything that happens after I'm gone which would not have happened if I had not come."
11. Arundhati Roy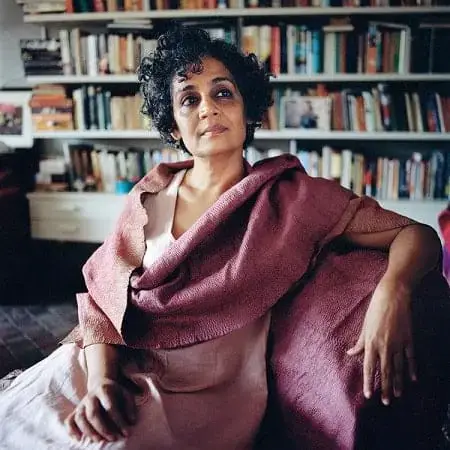 Roy is mostly known for her novel the "God of Small Things" for which she received a Man Booker Prize for fiction in 1997. This book became a huge bestseller and sold more copies than any other non-expatriate Indian novel. Her novel "The Ministry of Utmost Happiness" also won many awards and found its way to the Man Booker Prize 2017 longlist.
She's also a political activist and a fighter for environmental causes. She's a polarizing figure in India, known for her scathing comments about Narendra Modi, the Indian prime minister.
Roy was featured in Time's 100 most influential people in the world list in 2014.
Notable works:
The God of Small Things
The Ministry of Utmost Happiness
Quote from the author:
"To love. To be loved. To never forget your own insignificance. To never get used to the unspeakable violence and the vulgar disparity of life around you. To seek joy in the saddest places. To pursue beauty to its lair. To never simplify what is complicated or complicate what is simple. To respect strength, never power. Above all, to watch. To try and understand. To never look away. And never, never to forget."
12. Vikram Seth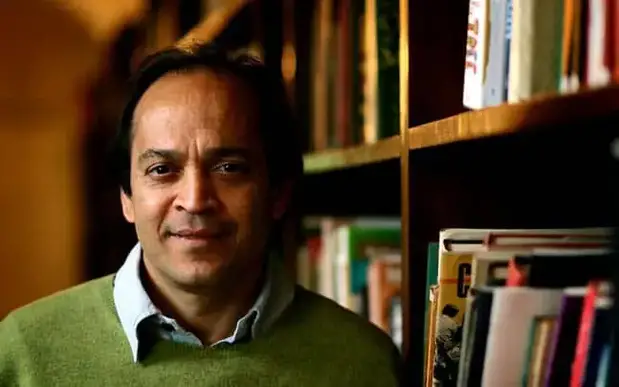 Born in 1952 in Calcutta, Seth is a part novelist, part travel writer k